---
Dangerous deep freeze underscores Line 5's importance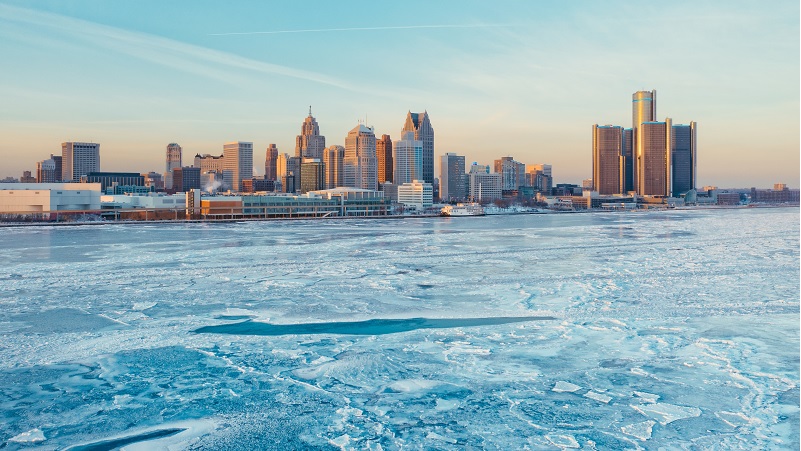 A weather forecaster projects the time period of Feb. 10 to 15 to be the coldest since 1952.
In the depths of winter, pipeline provides Michigan with much-needed propane
Feb. 10, 2021
Forecasters are calling for a blast of Arctic air—a potential polar vortex-type event—across the Midwest and Northeast that will plunge the region into a deep freeze with double-digit nighttime lows below zero, spiking demand for heat.
Simultaneously, the region is reaching the halfway point of Gov. Whitmer's attempt to revoke the easement agreement of Enbridge's Line 5, the State's main source of propane for heat.
More than half of Michigan—and 65% of the Upper Peninsula—relies on Enbridge's Line 5 for propane for home heat.
Forecasters anticipate this season's weather event could surpass the polar vortex from the winter of 2013-14. The governor at the time issued a State of Energy Emergency in Michigan, due to a propane shortage that coincided with those dangerously cold temperatures, and the deep freeze forced the closures of businesses and schools due to lack of heat.
Most applicable still today, it had a major economic impact on farmers, who rely on propane to support the health of their livestock. The unprecedented demand for reliable, low-cost propane also triggered price increases.
"When we faced the last polar vortex, low propane inventories resulted in severe enough supply shortages that the Federal Energy Regulatory Commission (FERC) issued an order authorizing emergency shipments of propane from Texas to meet the increased demand across the Midwest," said Bob Lehto, Enbridge area operations manager for northern Michigan.
"Today, Michigan's own governor is taking aim at the primary source of reliable propane on which residents and businesses from five states have relied for almost 70 years. Line 5 plays a critical role in Michigan as 'the' source for providing propane to heat homes and businesses of Michiganders."
Gov. Whitmer has yet to announce a plan to supplement the propane transported through Line 5 if she prevails in revoking the easement with which Enbridge remains fully compliant.
Her Nov. 13 notice to revoke the easement agreement between the State and Enbridge would be effective May 12. In November, Enbridge filed a federal complaint in the United States District Court for the Western District of Michigan seeking an injunction to stop the State of Michigan from taking any steps to prevent the continued operation of Line 5.
"We believe Gov. Whitmer is interfering with the comprehensive federal regulation of pipeline safety and burdens interstate and foreign commerce in clear violation of federal law and Congress intent," said Mike Koby, Enbridge vice president of U.S. operations. "In our opinion, and as reflected in the numerous letters from labor, elected officials and even other energy companies, her actions are counter to meeting the practical energy demands of the region and could compromise economic stability. A pending polar vortex or an extreme weather event like we're having compounds the situation and poses potential hardships."
A private weather forecasting service, BAMWx.com, is projecting Feb. 10 to 15 to be the coldest for that timeframe since1952. Fortunately for Michigan, Line 5 remains a reliable and affordable source for Michiganders who depend on propane to heat their homes and businesses.