---
Recent cyberattack underscores importance of Line 5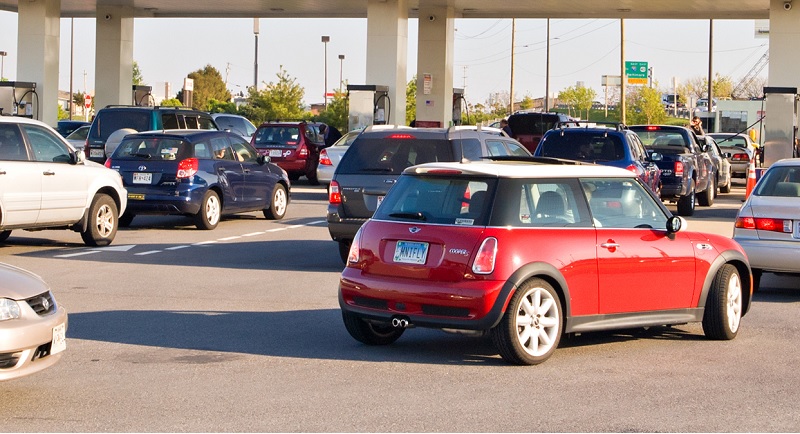 Gasoline and diesel shortages possible in Michigan and the region
May 12, 2021
The dominoes are already falling.
On the U.S. East Coast, some gas stations temporarily closed in response to the May 7 cyberattack on a major oil pipeline that serves the eastern seaboard.
Long gas lines appeared in the Carolinas and Florida. Even in the southwest, reverberations are being felt in places like New Mexico, where gasoline prices are climbing. When a major pipeline shuts down, it can impact millions of people.
Could these be signs of what consumers will experience long term if Michigan Gov. Gretchen Whitmer's actions to shutter permanently Enbridge's Line 5 are successful?
Friday's ransomware attack involved a main pipeline that ships diesel, gasoline and jet fuel from U.S. Gulf Coast refineries to consumers in 14 states along the U.S. East Coast. The pipeline company temporarily shut down the pipeline, triggering a decrease in supply and price spikes affecting a lot more than the Eastern seaboard.
"The cyberattack that triggered an unplanned, temporary closure brings to the forefront what consumers could face if Gov. Whitmer is successful in her efforts to revoke the 1953 easement between Enbridge and the State that enables Line 5 to operate in the Straits of Mackinac," said Mike Moeller, Enbridge's director of operations for the Great Lakes region. "The facts are irrefutable. Without Line 5, consumers will shoulder the burden of supply disruptions and related price increases, particularly for propane and transportation fuel."
The worst fears seem to be confirmed. Today, Greg Pardy, an RBC Capital Markets analyst who evaluated the ramifications of a shutdown in the Straits, offered a sobering forecast, saying "Either way, the recipe exists for regional gasoline and diesel shortages, and price spikes on both sides of the border."
Line 5 is vital to Michigan, region
Enbridge's Line 5 provides the light crude oil and natural gas liquids that area refineries use to produce fuel for cars, boats, planes, and agricultural equipment. Product from Line 5 also is essential to manufacturing thousands of items, including vehicles, tires, clothing, bicycles, computers, kayaks, swimming pools, vitamins, toothpaste, and medical supplies.
Additionally, a recent Consumer Energy Alliance study indicates that if successful, the Administration's efforts to shut down a vital energy source will:
generate a loss of 33,755 jobs throughout Michigan, Ohio, Indiana, and Pennsylvania;
result in an estimated $20.8 billion loss in economic activity, impacting retailers, restaurants and other businesses across the region; and
reduce by $265.7 million annual tax revenue the four states receive, affecting community and emergency services.
Pipeline is safe, reliable and needed
"The U.S. Pipeline Hazardous Materials Safety Administration (PHMSA), not the State of Michigan, is the regulatory authority for interstate pipelines, including Line 5," said Moeller. "Through inspections, PHMSA consistently has determined Line 5 is fit for service, which the State's November notice to revoke the easement agreement ignores."
Moeller reiterates that Line 5 is operating safely and normally, while acknowledging, "cyberattacks are of concern for all businesses these days, which is why Enbridge has invested significantly in cybersecurity through the years, tests our systems frequently and monitors constantly." Along with bolstering cybersecurity, Enbridge has invested $100 million since 2018 on improvements and successful safety measures related to Line 5 in the Straits.
Safety is job #1
"We are committed to protecting our communities and the waterways," said Moeller "We also have responsibility to transport safely and reliably through Line 5 the light crude oil and natural gas liquids that allow for our daily essentials."
The irony is that Governor's actions, not cyberattacks, seem to be posing the immediate challenges to consumers continuing to receive the practical, environmental and economic benefits from Line 5.
In addition to the state-of the-art Enbridge Straits Maritime Operations Center (ESMOC) that opened in 2020, Enbridge has committed $500 million to build the Great Lakes Tunnel Project. The Great Lakes Tunnel will house a replacement section of Line 5 deep below the lakebed, virtually eliminating the chance of an anchor strike or spill.