Accountable, responsible, transparent governance
Enbridge is committed to strong governance and the highest standards of professional and personal conduct. We always seek to act with openness and transparency.
Our approach
Our board provides stewardship of Enbridge's business and monitors performance against our long-term strategy. They review and confirm that policies and practices are in place to ensure that appropriate risk management systems are employed throughout the company that identify emerging and key risks.
A dedicated Corporate Social Responsibility Committee is responsible for providing oversight of our policies, strategies and performance related to CSR and sustainability, including but not limited to Indigenous and stakeholder engagement, climate change, public policy, government relations and CSR reporting and disclosure.
We benefit from a diverse and independent board, with separate Chair and CEO roles and an independent Chair. A written diversity and inclusion policy sets our objective to have each gender comprise at least one-third of the directors and senior management, and highlights the importance we place on differences in skills and experiences, as well as diversity conditions such as gender, age and ethnicity.
Risk management activities are undertaken across Enbridge each and every day. The Corporate Risk Assessment is a comprehensive annual process and report to the committees of Enbridge Inc.'s Board. The process engages risk management participants across Enbridge to consistently assess and prioritize enterprise-wide risks and treatments, highlight top risks, trends in the Company's risk profile and treatment effectiveness. Risks are identified across safety and operations, strategy and competition, cybersecurity, financial matters, brand and reputation, legal and compliance activities, and regulatory requirements—to read more concerning our risks, please refer to the Management Information Circular. Governance of specific risks, including ESG topics, is spread among our five Board committees.
Our commitment to ethics and compliance starts with our Statement on Business Conduct, which sets clear expectations for how we work at Enbridge. It applies to our employees, directors, officers, subsidiaries and controlled entities, as well as contingent workers, consultants and contractors in all countries where Enbridge conducts business. We have a robust governance framework for Ethics and Compliance, which consists of shared responsibility among the Audit, Finance and Risk Committee of our Board, our Chief Compliance Officer and our Executive Leadership Team.
---
Highlights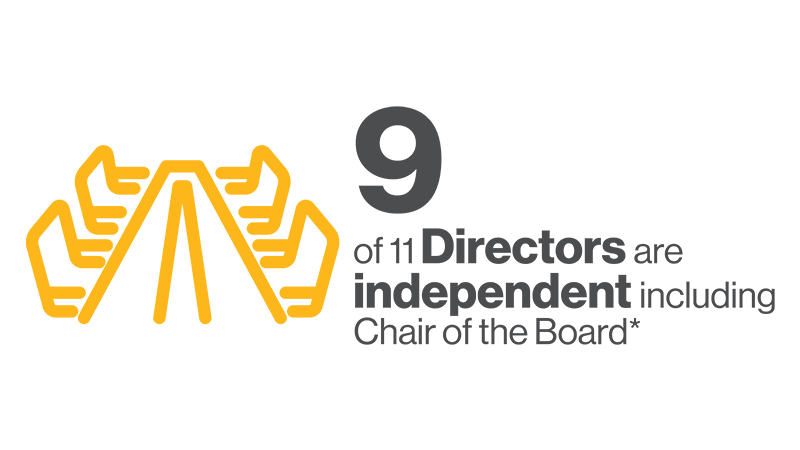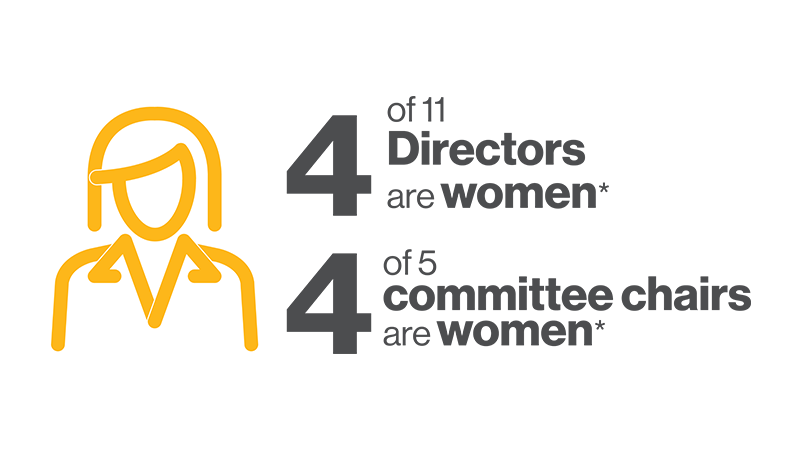 *As at July 31, 2020
---
Related links
More information about our board, and our corporate governance policies and practices.
Notice of 2020 Annual Meeting of Shareholders and Management Information Circular
Enbridge's Board of Directors
---