We are at a pivotal moment in history—an awakening—to reset and build a foundational relationship. There is a shifting of awareness to Indigenous history, culture, rights, engagement and inclusion occurring across North America.
This awareness both comes from and places more focus on the evolving legal and constitutional framework.
It also fosters greater political and societal attention; provides opportunities to weave Indigenous knowledge, teachings and perspectives into decision making; and is embodied by the courageous sharing of the personal stories and experiences of Indigenous Peoples in Canada and the United States.
The recent and ongoing recoveries of the unmarked graves of Indigenous children at former residential schools in Canada are a painful reminder of the inequities and injustices Indigenous Peoples across North America have endured and continue to face today.
We have all inherited this position in time together—and we all have a role to play in supporting this awakening by educating ourselves about the truth of the history of Indigenous Peoples and then embarking on a path toward reconciliation.
"Reconciliation cannot begin until the truth is first accepted and better understood."
—Cadmus Delorme, Chief of the Cowessess First Nation in Canada
Our projects and operations span Treaty and Tribal lands, the Métis National Homeland, unceded lands and the traditional territories of Indigenous Nations, Tribes, Governments and groups (Indigenous groups)1 across North America. Enbridge has consulted and engaged with more than 340 Indigenous groups in Canada and the United States.
We believe we can, and should, be a leader in our industry in Indigenous engagement, inclusion, and awareness—because we have learned we can go further together. Because inclusion creates unique, powerful, respectful and collective opportunities and benefits—for all involved. Because this matters.
Our name, Enbridge, conveys our commitment to being a bridge and leading the way to a safer, cleaner and more sustainable energy future.
But a bridge is only as sturdy as its foundation and the structures that support it, and that's why we're working to strengthen an essential component of that structure—fostering trusting, respectful and mutually beneficial relationships with Indigenous Peoples.
While we have expanded Indigenous inclusion within our projects and operations, we recognize our journey towards reconciliation is just that, a journey. More time is needed to listen, learn, understand and adapt in tandem with the broader changes taking place in North American society.
We have more work to do. We are committed to this, and we are committed to bridging the gaps that exist to develop meaningful and sustainable outcomes for Indigenous groups for generations to come.
To continue this work, Enbridge plans to develop a Reconciliation Action Plan in 2022. The Reconciliation Action Plan will outline our commitments and a plan of action going forward.
"I'm proud of the path Enbridge has taken to increase engagement and inclusion of Indigenous Peoples. Through this work we are learning from Indigenous communities and maturing as a business, resulting in better protection of valuable Indigenous resources and improved quality of life throughout the lifecycle of Enbridge's assets."
—Paul Eberth, Enbridge's Director of Tribal Engagement
1 In this report we are using the term, "Indigenous groups" when referring to Indigenous nations, governments or groups in Canada and/or Native American Tribes and Tribal associations in the United States. We have the utmost respect for the unique rights and individual names of Indigenous groups across North America. This collective term is used solely for the purpose of the readability of the report and is not meant disrespectfully.

A Line 3 decommissioning crew in Manitoba wearing orange shirts to mark Canada's National Day for Truth and Reconciliation.
Spotlight: Outcomes of focused engagement and inclusion
We last provided a dedicated report on our Indigenous engagement, inclusion and outcomes in the 2018 report. Since that time, we have:
Adopted a lifecycle approach, inclusive of feedback received from Indigenous groups, which means we will continuously engage throughout the life of our assets, not just when we have a project to build.
Increased total spending with Indigenous businesses, including contracting, and wages paid to Indigenous workers, to more than $1.8 billion in total spend, an increase of more than $1.3 billion dollars since the 2018 report.
Provided nearly $12 million in community investments to Indigenous groups.

This included $2.2 million in COVID-19 relief to more than 150 Indigenous groups located near our assets that faced unique hardships due to the pandemic;

Completed what we believe to be the largest Indigenous cultural resources survey in the US energy industry, along the Line 3 pipeline replacement route in Minnesota.
Provided Indigenous awareness training to approximately 5,500 employees online (roughly 50% of our workforce) and 1,500 employees in-person (roughly 14% of our workforce) as of February 2022.
Committed, in November 2020, to having 100% of Enbridge employees complete online Indigenous awareness training by the end of 2022.
Committed to 3.5% representation of Indigenous people in our workforce by 2025, which has considered the demographics across our operating areas in Canada and the U.S., the labour market and our anticipated pace of hiring. With a current percentage of 2.2% representation, we are continuing our efforts to achieve this goal.
Additional details are featured throughout this report.
"As a young Indigenous professional, one of the key considerations I've maintained as I've began my career has always centered around the word 'opportunity.' For me, that meant joining an organization that not only provided me the opportunity to deliver on work that I believe in, but more importantly presented me with the opportunity to be part of an organization that both recognizes the changing landscape related to reconciliation and wants to be an industry leader in those efforts. I have been consistently reassured since joining Enbridge that this is an organization that reflects my values by taking seriously its role in reconciliation and continuing to learn how to walk the good path."
—Matt, Senior Analyst,
Community and Indigenous Engagement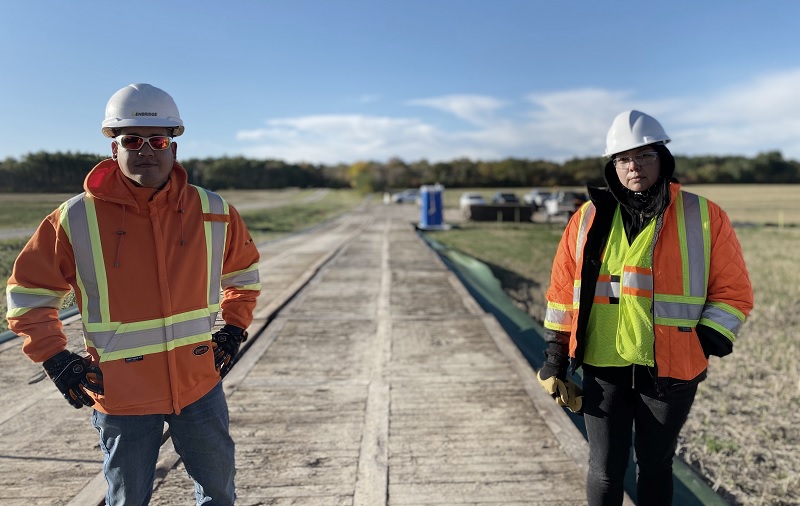 An Indigenous Liaison and an Indigenous Construction Monitor working on Line 3 decommissioning in Canada.
---