Sustaining and celebrating Indigenous culture
In alignment with our IPP, we continue to bridge knowledge gaps, foster understanding and seek further advice from Indigenous groups on the history and culture of Indigenous Peoples among our employees and contractors. This knowledge and guidance from Indigenous groups has created opportunities for increased collaboration, shared understanding and protection of Indigenous cultural resources.
Traditional Land Use information
To identify areas of significant heritage, cultural and traditional importance, Enbridge regularly offers funding for Traditional Land Use (TLU) studies on our projects.
Information gathered is used in route and infrastructure planning to avoid or mitigate potential impacts on sites of importance. The information is preserved on a confidential basis to facilitate continued mitigation, should the information be applicable to future activities that could potentially impact the sites.
Enbridge, in collaboration and alignment with Indigenous groups, has begun to map cultural sites across our pipeline system, beginning with the Line 3 Replacement Program to ensure we avoid or mitigate potential impacts through project construction, during operation of our assets, and in the unlikely event of a release.
Once the mapping is complete, Enbridge will engage with Indigenous groups that provided the information during the projects to verify the sites.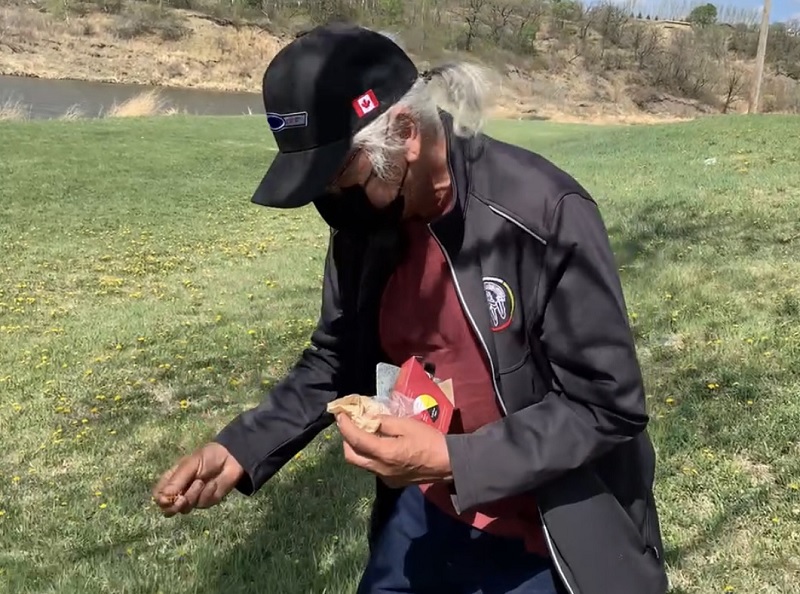 Blessing ceremony before our emergency response exercise in Manitoba.
From 2017 to 2019, we conducted a first-of-its-kind Tribal Cultural Resource Survey. Managed by the Fond du Lac Band of Lake Superior Chippewa, experts from 30 federally recognized Tribes collaborated on the review of the full 337-mile (541-km) Line 3 Replacement Project route through Minnesota. Sixty significant cultural locations were identified for further avoidance, mitigation treatments or Tribal monitoring. Enbridge incorporated these recommendations into its project plans. To ensure cultural resources are protected, construction of the Line 3 replacement pipeline in the United States has been supervised by Tribal monitors, with authority to stop construction. This is a similar approach to that which was applied during construction in Canada, utilizing TLU Studies completed by Indigenous groups to guide the protection of cultural sites through the Tribal Monitoring Program.
"A project like this has never been done across Tribal communities or energy companies. They really set a precedent."
—Jim Jones, a Leech Lake Band of Ojibwe member
and a project manager for the survey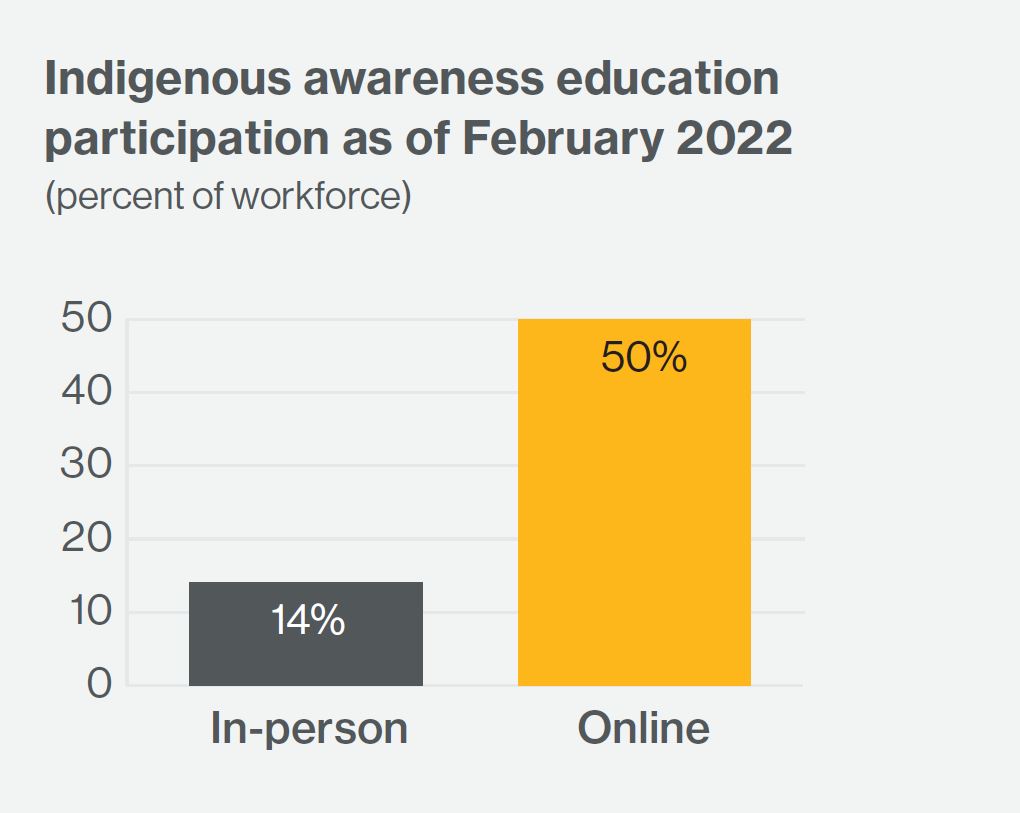 We are committed to having 100% of Enbridge's employees complete online Indigenous awareness training by the end of 2022.
Indigenous awareness education
Developing a deep understanding of the history, rights, culture and knowledge of Indigenous Peoples is essential to recognizing the necessity of reconciliation. Cultivating and supporting this understanding is central to our value of inclusion.
While Indigenous awareness training has been a part of our approach for a number of years, it has never been required across the company—until now.
We are committed to having 100% of Enbridge's employees complete online Indigenous awareness training by the end of 2022.
Since 2018, we have advanced this training to provide increased exposure, experiences and relevant information to build a deeper understanding of and appreciation for Indigenous Peoples. This includes: an overview of key concepts, including government laws and policies and their effects on Indigenous Peoples; the protection and restoration of treaty rights; and a raising of awareness of the historical injustices and lasting impacts of the treatment of Indigenous Peoples.
Training is now available online and in-person for internal teams to delve deeper in their learning and understanding of Indigenous culture with a focus on the truth of truth and reconciliation. To augment this training, we have developed an Indigenous and Tribal Land Acknowledgement Guide reinforcing the importance of the Indigenous connection to the land and our role in this relationship with Indigenous groups.
The feedback we have received from employees in both the United States and Canada following Cultural Awareness training has been overwhelmingly positive, appreciative, and in some cases, transformative.
"My participation in the training has really changed my perspective on a lot of things (and) woken me up to a lot of the bias that I was told/learned over the years. After taking this session it made me into someone that wanted to be involved and champion awareness not only at work but in my personal life as well."
—Jay, Operations Supervisor
Project-specific Indigenous awareness training was provided to 11,600 employees and contractors working on the Line 3 Replacement Project in the United States. In addition, and in response to local concerns, Enbridge developed a Human Trafficking Awareness Prevention Program, which included a training video produced in partnership with local Tribes. This program focused on Missing and Murdered Indigenous Women and Girls, and participation was required of all personnel working on the Line 3 Replacement Project in the United States.
As we gain a better understanding of the history, culture and perspectives of Indigenous Peoples, we are greater prepared to have meaningful and honest conversations on our projects and operations, to better understand interests, and to ensure inclusion of Indigenous feedback into our projects and operations.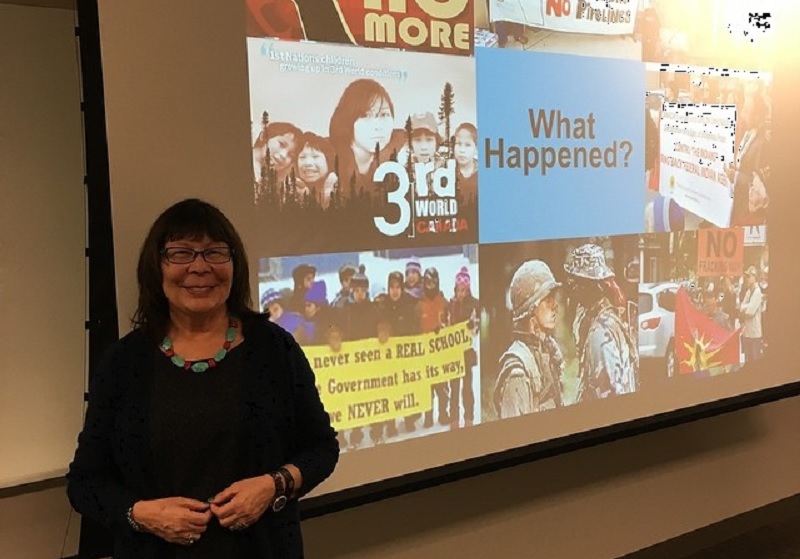 Bee Schadeck, a longtime Indigenous awareness presenter for Enbridge.
"Before attending the Indigenous awareness training I had known very little about Canada's history of the residential school systems and the atrocities that were committed . . . I can say my attitudes, heart and overall understanding of Indigenous Peoples and their history has opened entirely new perspectives for me."
—Inara, Regional Maintenance Analyst
---