Indigenous engagement and employment
There are currently more than 230 self-identified Indigenous people employed by Enbridge across North America, and approximately 34% of those are in specialist or leadership roles. This accounts for 2.2% of our workforce.
Enbridge is focused on increasing employment numbers and including Indigenous representation and perspective in our day-to-day operations.
One of our 2020 sustainability goals is achieving 3.5% representation of Indigenous Peoples in our North American permanent workforce by 2025. When we considered the demographics across our operating areas, the labour market and our anticipated pace of hiring, 3.5% became an appropriate goal to help us be more reflective of the communities where we operate. With a workforce of roughly 11,000 employees, reaching this goal will be a challenge—but we know in order for meaningful change to occur we must challenge ourselves.
To help us meet this goal, we are working to decrease barriers to employment and increase retention. We have established an internal Indigenous employment initiative working group; hired an Indigenous recruiter; provide guidance for culturally appropriate interview processes; continued and expanded Indigenous Employee Resource Groups (ERGs) within Enbridge; and continue to maintain contact information for Indigenous groups with respect to job opportunities. In addition, we offer apprenticeship/intern programs in a number of our operating regions, and annually allocate at least one of our six rotational engineering internship positions for an Indigenous engineer in training.
Over the past two years, 183 self-identified Indigenous people have completed workforce training sponsored by Enbridge in the United States.
We are increasing Indigenous representation in some areas of the company; however, we know we can and must do better. We are creating multiple pathways to employment including increased permanent, contract and apprenticeship positions, as well as increasing Indigenous perspectives in more areas of our business and sustaining a culturally welcoming and supportive environment for Indigenous employees. Enbridge strives to be a preferred employer for Indigenous Peoples.
"Many individuals had reached out to me to have a virtual video call to introduce themselves. This signified that they found my being here important and cleared time in their schedule to make me feel welcome . . . I have never worked for an employer with as many Indigenous employees that I got to work alongside. I have also never seen another company work as hard as Enbridge does to hire on Indigenous companies to work along the pipeline."
—T'Kaela, Enbridge summer student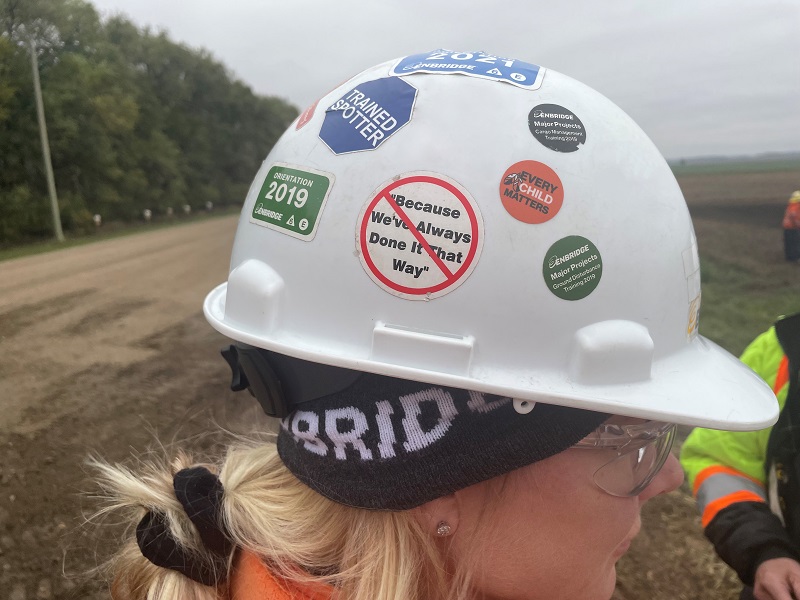 We developed Every Child Matters hardhat stickers for those in the field to show support for Canada's National Day for Truth and Reconciliation.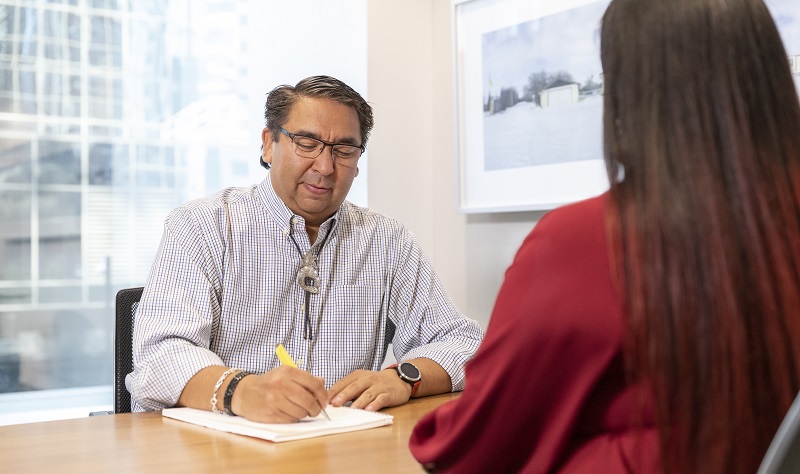 Enbridge Indigenous Recruitment Advisor Mark Shilliday.
"As a young Indigenous professional, one of the key considerations I've maintained as I've began my career has always centered around the word 'opportunity.' For me, that meant joining an organization that not only provided me the opportunity to deliver on work that I believe in, but more importantly presented me with the opportunity to be part of an organization that both recognizes the changing landscape related to reconciliation and wants to be an industry leader in those efforts. I have been consistently reassured since joining Enbridge that this is an organization that reflects my values by taking seriously its role in reconciliation and continuing to learn how to walk the good path."
—Matt, Senior Analyst,
Community and Indigenous Engagement
On Sept. 30, 2021, Canada's first National Day for Truth and Reconciliation, we acknowledged the importance of this day and our employees in Canada were given the day off for personal reflection, or education. In 2022 in the United States, we have taken a similar approach, and provided our employees the option of taking National Indigenous Peoples Day on Oct. 11 or Martin Luther King Jr. Day on Jan. 17 as a day off for reflection. We will continue to find ways to live our values and provide our people the space and capacity to pause, listen, honour, and learn.
---