Pillar 1: People, employment and education
Enbridge is committed to creating and nurturing organizational structures that support opportunities to attract, retain and develop the skills of Indigenous people at all levels and in positions that make Enbridge the place to build their careers in a culturally supportive work environment.
---
Our commitments
Focus
Commitment
Details
Target/Goal
Timeline
Talent attraction and recruiting
Establish flexible work placements and opportunities for Indigenous peoples that account for regional and cultural considerations across Canada and the United States

In addition to current organizational workplace flexibility options, identify and develop opportunities for roles in other locations where there might be increased availability of Indigenous applicants
Identify and resolve employment barriers for current and future Indigenous employees
Explore updating leaves policies to reflect cultural inclusivity

Update Indigenous engagement employment program to account for Indigenous culture, regional/remote considerations and legal considerations, as appropriate
Explore establishing a cultural leave program

2022-Ongoing
Continue to seek and strive to increase Indigenous representation in Enbridge's permanent workforce

Continue to review and develop Indigenous employment data and report annually
Work with Indigenous groups and training partners to identify current opportunities and key growth areas for employment and skills development
Explore new partnerships to grow talent pool and implement Indigenous recruitment strategies with the goal of increasing awareness of opportunities at Enbridge

Continue to report metrics and provide annual disclosure
Identify key growth areas for employment and skills development
Establish partnership with Indigenous employment agency
Attend at least eight (8) Indigenous-focused career fairs throughout Canada and the United States
Attempt to reach our previously established goal of a minimum of 3.5% of proportional Indigenous representation4

2025
Continue to review internal hiring processes and develop human resource capability to ensure all perspectives are reflected through attraction/retention lifecycle

Review existing talent policies and procedures to identify gaps and implement changes to ensure cultural perspectives and priorities are reflected throughout process(es)
Continue to conduct regular training with Talent Acquisition team on ways to conduct culturally sensitive interviews (e.g., understanding Indigenous cultural differences, uncovering hiring biases, interviewee evaluation criteria)
Where allowed by law, formalize Indigenous attraction/retention programming for diversity, cultural, regional and remote considerations

Review and, where appropriate, update internal hiring processes
Conduct ongoing and regular training with Talent Acquisition team related to hiring practices
Explore development of policies/procedures to support Indigenous attraction/retention programs

2022-Ongoing
Talent experience and development
Increase representation of Indigenous employees within Enbridge's Leadership Development Program to support the retention and advancement of Indigenous employees

Continue to support Indigenous employees through consultation, mentorship, onboarding, coaching and connection
Develop and diversify pools of candidates for apprenticeship and internship programs
Continue to identify and develop succession plans free from unconscious bias across the company

Explore expansion of programs and opportunities for the growth of Indigenous employees/employee base

2023-Ongoing
Cultural support programs
Continue to develop and maintain cultural support programs to make Enbridge an attractive and welcoming employer for all people, including Indigenous peoples

Continue to include and develop Indigenous Employee Resource Groups across the company
Expand programs related to Sharing Circles and Indigenous employee support across the company
Continue to create culturally inclusive and safe spaces across the company that are supportive and celebrate Indigenous arts and culture
Develop a regional-based implementation model inclusive of diverse perspectives across the company
Establish an Elder connections program to give employees direct access to Indigenous Elders for advice and cultural support

Continue to implement and expand cultural support programs
Integrate Indigenous arts and culture in Enbridge offices and facilities across Turtle Island2

2023-Ongoing
Learning and awareness
Ensure 100% of Enbridge's employees complete Indigenous awareness training

Ensure opportunities exist for employees to develop a deeper understanding of the history, rights, culture and knowledge of Indigenous peoples by completing online or in-person cultural awareness training
Explore tailored training for groups across Enbridge, as needed
Track and monitor completion statistics of required Indigenous Awareness Training

100% employee participation in cultural awareness training
Ensure every new Enbridge employee receives cultural awareness training as a requirement

2022
2 The continent of North America is often referred to as Turtle Island by some Indigenous peoples. Both terms appear within this IRAP, where appropriate.
4 All percentages or specific goals regarding inclusion, diversity, equity, and accessibility are aspirational goals which we intend to achieve in a manner compliant with state, local, provincial, and federal law, including, but not limited to, U.S. federal regulations and Equal Employment Opportunity Commission, Department of Labor and Office of Federal Contract Programs guidance.
* Please note that bargaining unit employees are subject to the terms and conditions of their collective bargaining agreement.
---
Spotlight: Gas Distribution and Storage Mentorship Program
As an example of forging new pathways and living our values, the Gas Distribution and Storage (GDS) Mentorship Program aims at reducing barriers and increasing opportunities for Indigenous recruitment and employment.


Enbridge's Gas Distribution and Storage (GDS) Northern Mentorship Program, now in its 4th year, was founded when our Northern Region team in GDS recognized their approach to recruit local Indigenous talent for various positions over several years was largely unsuccessful. "We have a duty to reflect the communities we serve, yet we struggled to attract local Indigenous talent after years of effort and commitment," said Luke Skaarup, former Director Northern Region Operations GDS and now Director Operations Services for Enbridge's Liquids Pipelines Operations. "We needed to work collaboratively both internally and externally to course correct."
"The success in identifying and connecting candidates with positions came from the commitment and foresight of early champions of this program and a willingness to depart from the normalized hiring processes that create barriers to entry for some Indigenous candidates."
—Wendy Landry, Enbridge Senior Indigenous Initiatives and Engagement Advisor
The team sought approval for and actioned the re-purposing of Enbridge's co-operative and summer student roles for Indigenous mentorship and engaged with local Indigenous groups and unions to reduce the very real barriers to entry into Enbridge—and more generally, corporate Canada—by enhancing the accessibility of our job postings, inviting initial discussions and conducting interviews within communities. They provided recognition for relevant lived experience in addition to professional experience.
"The success in identifying and connecting candidates with positions came from the commitment and foresight of early champions of this program, and a willingness to depart from the normalized hiring processes that create barriers to entry for some Indigenous candidates," said Wendy Landry, Red Rock Indian Band member, Mayor of Shuniah and Senior Indigenous Initiatives and Engagement Advisor to Enbridge. While there is more work to do, this program has helped develop capacity by identifying where there were gaps in the recruitment and hiring process and how best to address those gaps to create pathways to employment—with Enbridge or elsewhere in the energy industry.
In 2021, the Northern Region team in GDS hired four mentees with an additional Indigenous employee successfully competing for a fulltime construction laborer position. We also partnered with the Métis Nation of Ontario as part of a Métis Youth Internship Program to on-board one additional hire to our construction team, and Distribution Operations initiated an Indigenous Community Outreach program as part of its diversity and inclusion strategy.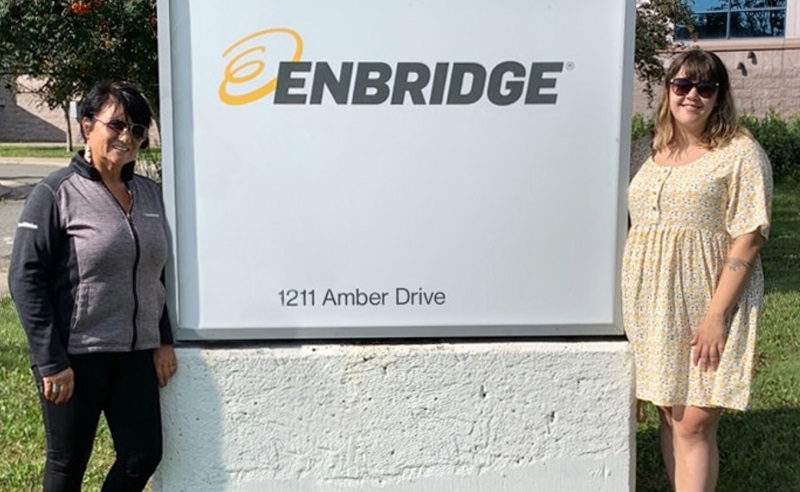 Wendy Landry (left) and previous mentorship participant, now full-time Enbridge employee, Lauryn Graham (right) pose next to the Enbridge sign in Eastern Region.
Enbridge is focused on expanding the mentorship program across GDS in Ontario in 2022, along with the implementation of an internal awareness campaign to increase understanding and support for Indigenous partnerships and collaboration.
The team focused internally on identifying pathways to fulltime employment, on implementing a mentorship program, and approached recruitment and hiring in a more culturally sensitive and respectful manner.
Opportunities for dialogue and engagement with current and potential employees, including through the Indigenous Employment Resource Group and the Indigenous Sharing Circle, mean our journey of learning and adapting continues to inform the evolution of our Indigenous recruitment commitment. The entire team continues to identify mechanisms to enhance our accessibility, recruitment, retention and education practices.

---