The journey ahead
Our commitment to this journey is steadfast. Our goal is to create and nurture sustainable, respectful and mutually beneficial relationships with Indigenous groups in the areas in which we operate.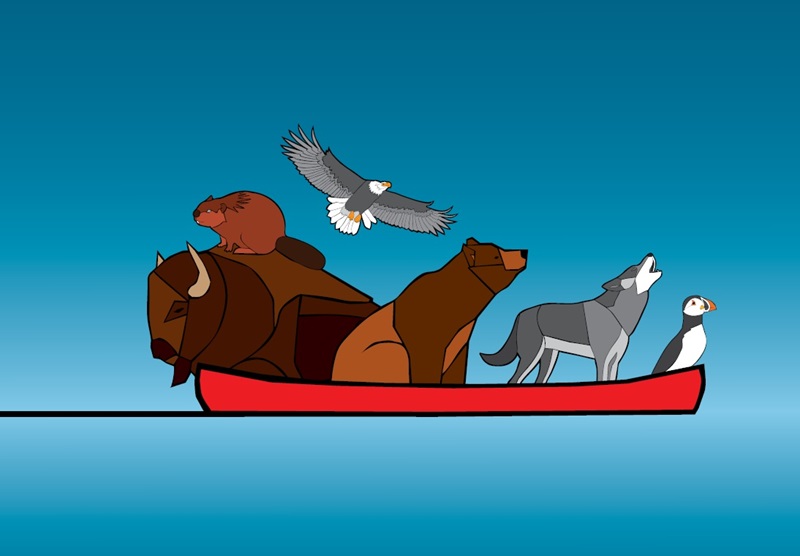 Our approach to Indigenous engagement and inclusion is continuously evolving. Our journey of reconciliation is a journey of continual listening, learning, reflection and action.
This IRAP is an evolutionary milestone—we are committed to this work, to continue to challenge ourselves, our leaders, and our suppliers to walk a shared path to reconciliation and to taking an innovative and progressive approach to collaboration and inclusion.
---
About the animals
Puffin: is an incredible social creature that is often used as a symbol of transformation (due to their ability to be a sea bird and a land-based bird). Not only celebrated for their plucky and joyful disposition, they are often thought to carry much wisdom and can offer much guidance.
Wolf: represents loyalty, strong family ties, good communication, understanding, education and seeker of higher intelligence. Of all land animals, the wolf is found all around the world and is considered to be a connector of all.
Bear: represents authority, good medicine, courage and strength. The bear is believed to be a healer and protector (like a mother bear protects her young). This animal is a symbol for standing up for what is right and fighting for what is good and true.
Beaver: is a symbol of stewardship and safety because he uses his natural gifts wisely for his survival. The beaver is also celebrated as an animal that alters their environment in an environmentally-friendly and sustainable way for the benefit of all their family.
Bison: sustained a way of life for Indigenous peoples for centuries. The bison was used as a food source throughout the years, its hides used in teepees and clothing, and its bones fashioned into tools. This animal symbolizes protection, prosperity, courage, strength, abundance, gratitude and most importantly, stability,
Eagle: is a symbol of strength, authority and power. It rules the skies with grace and great intellect. As a source of inspiration and sometimes used as a guiding force, the eagle teaches individuals about the value of the high road and the unparalleled joys of true freedom.
---
Contact us

Enbridge Inc.
200, Fifth Avenue Place
425 1st Street S.W.
Calgary, Alberta
Canada T2P 3L8
Telephone: 1-403-231-3900
Fax: 1-403-231-3920
enbridge.com/indigenous